breathtaking physical excitement
LehrerDance is an inspiring and innovative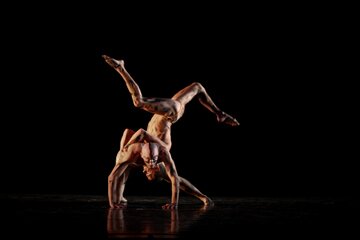 dance company based in Buffalo, NY. Under the direction of Jon Lehrer, the company showcases Jon's unique choreography and embodies his definitive style. Jon's extensive background in both the modern and jazz dance idioms fosters choreography that is organic, artistic, accessible and often humorous, reflecting life experience and the human condition.
The LehrerDance style is best described as "Organically Athletic", integrating the approach and fluidity of modern dance with the excitement and energy of jazz dance to create an expressive, engrossing style of movement. LehrerDance is an "enviable team of dynamite Buffalo, N.Y. dancers" (Chicago Tribune) comprised of 8 individuals who bring their own unique skills to the LehrerDance vernacular. From Break-Dancing to Modern, Jazz to Gymnastics, each dancer adds their own spice to the LehrerDance mix, keeping it fresh and evolving.
LehrerDance began in 2007 and has already toured extensively receiving much national notoriety and critical acclaim. Dance Magazine says LehrerDance "took the house not so much by storm as by quantum physics", and is "on the cusp of jazz/modern fusion". LehrerDance brings audiences to their feet with its trademark athletic, edge-of-your seat excitement.