like nothing you've ever seen before
Via a two-hour journey filled with color, sound and movement, The Duquesne University Tamburitzans captures the indomitable spirit of Eastern Europe and neighboring cultures through music, song and dance. Language (a dozen or more are used) is no barrier, as these emotions strike a universal chord. Ensemble members come from all corners of the U.S., Canada, and the world, bringing exceptional talents and lifetimes of performing experience to the stage.
Now celebrating 75 years, the Tamburitzans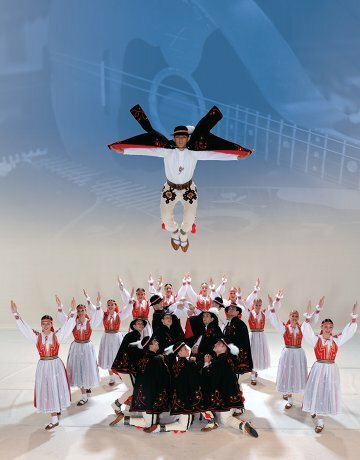 is the longest-running live stage show of its kind in the United States. Continually blending old world traditions with new concepts, ideas and choreography, this outstanding group of entertainers has presented thousands of shows throughout the United States and Canada, and has also achieved international acclaim in countries from South America to Europe.
It's easy to be enthralled with this exciting show, which uses over 400 costumes and 50 musical instruments. These works of art are as diverse as the countries, regions, and nationalities which they represent. Rich textiles, magnificent embroideries, and intricate lacework adorn the performers as they shuttle through cityscape and countryside, bringing to American theatre the magic of places which most people have only read about in a book or heard mentioned in stories and memories of the "Old Country."
"…a joyous explosion of youth and spirited dance and music" The New York Times "Dazzling bursts of energy, songs that haunt, and humor and elaborately costumed folk exotica from Eastern Europe" The Green Press Gazette