elegant and fierce…
Dance Now!, in residence at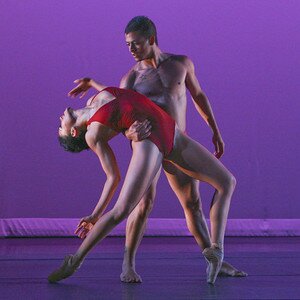 Miami's Little Haiti Cultural Center, was founded in 2000 by Diego Salterini and Hannah Baumgarten through a chance encounter at PAN, a South Florida dance collective. The two quickly became dance partners and creative collaborators; their work bridges their diverse backgrounds in ballet, modern dance, and jazz, creating poetic narrative and theatrical artistry filled with fierce athleticism. Salterini hails from an illustrious career as television and theatre star in Italy, Baumgarten received her BFA from the Juilliard School of Music and danced professionally in Utah, New York, Arizona and Florida.
Dance Now!'s collaborative international style has received critical and popular acclaim both at the local and the national level. The company's work has been presented in 10 states and three continents by among others, Ballet Estable del Teatro Colon, Michael Uthoff Dance Theatre, Interlochen Center for the Arts, the Cincinnati Conservatory, and the Dance Gallery Festival of New York. The directors have created ten full-length evenings of dance and over 50 shorter works, working both individually and collaboratively as well as presenting the work of guest choreographers Michael Uthoff, Tandy Beal, Tauna Hunter, Josée Garant and Colleen Farnum. The company founded the EKPHRASIS PROJECT, creating site-specific work in museums and galleries, and has pioneered cultural initiatives such as the Miami Dance Festival and Open Stage.
Critics have hailed Dance Now! as "…unabashed beauty…" (Annie Hollingsworth, Artburst Miami), "carnal and courageous…… with an impressive range of movement and motion", (Mia Leonin, Miami Art Guide), "…not only elegant and fierce, but dedicated to its community…a mature, exciting and bounds-breaking company." (Miguel Estefan, Miami Art Guide). Dance Now! has also garnered prestigious awards including: Best Experimental Dance Company (Miami Sun Post) and Top Ten Dance Events of the Year (Miami Herald) and Directors Salterini and Baumgarten received the Miami ArtZine "Visionary Award" in 2010.
At the Little Haiti Cultural Center, the company rehearses, performs, and teaches classes for children and adults. Their "Dance In Public Schools" educational outreach program reaches over 5,000 children annually with master classes, workshops and performances as well as an apprenticeship program nurturing tomorrow's talent.