with new work by Mark Morris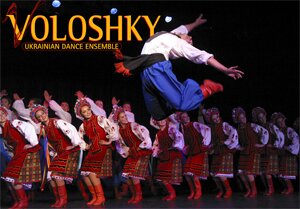 Voloshky's 2009 home-season performance, STEPPES – A Ukrainian Journey, featured virtuoso violinist Vasyl Popadiuk and his musicians (Papa Duke). The entire performance was to live music. After the show, Ukraine's Ambassador to the U.S., Dr. Oleh Shamshur, expressed his thoughts on the emotional response that he and the audience experienced- "We regard this joint performance to be an outstanding example of cultural diplomacy as well as entertainment."
Voloshky partners with leading professional dance companies in Ukraine and the United States and has been generously supported by funding from the National Endowment for the Arts, the Pennsylvania Council on the Arts, Dance/USA Philadelphia and Pennsylvania Performing Arts on Tour (PennPAT).
For over a decade, numerous artistic projects have been supported by The Pew Center for Arts & Heritage through Dance Advance. Most recently Voloshky was awarded a grant to commission world-renowned choreographer Mark Morris to create a new contemporary work set to premiere in its 40th anniversary season.
NEFA NDP touring support available for 2014/15 The creation and presentation of STEPPES is supported by the National Endowment for the Arts in cooperation with the New England Foundation for the Arts though the National Dance Project. Major support for NDP is provided by the Doris Duke Charitable Foundation and The Andrew W. Mellon Foundation, with additional support from the Community Connections Fund of the MetLife Foundation. Support from the NEA provides funding for choreographers in the early stages of their careers.